UNITEC WEB TOOLS STORY AND EVOLUTION

3. E-Catalog Description
E-Catalog was published in three different languages, and contains in about 80,000 articles in each of them, which represent more than 5,000 international firms' catalogues abstract.
All these products were not published on the net at random, otherwise offering not very well-known products would have been a considerable risk, which had made researches dull.
In fact, only Siemens has an about 2,5 millions items sales assortment.
So just the most-required articles were chosen for E-Catalog.
In order to increase its internet visibility through the main search engines, the company has registered its on-line catalogues in many different languages, registering more than 300,000 pages.
Thanks to these tricks, E-Catalog receives more than 2,000 daily visitors nowadays (that means 60,000 visits a month and 720,000 a year); of these more than 300 carry out specific researches, and a percentage between 10 and 20% on these 300 use the effective Unitec operators' support to complete or go into their research.
This trend is rising, and the Unitec site's International Traffic Ranking has sometimes reached the RANK 100,000, that means Unitec is among the first 100,000 world sites.
A new element confirming the growth trend is the always bigger internet diffusion among operational divisions' professionals such as maintenance engineers, who as soon as few months ago did not used using internet for their work.
Considering statistics, we are now in this phenomenon's beginning, still so far from its widespread distribution, with great growing rates' outlook in the next years.
As support to this progress, a new instrument has been developed: it's the "Unitec Toolbar", a research toolbar which integrates itself in the browser, and holds a service set including articles research by code or description.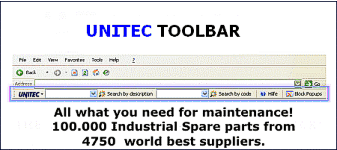 Another future development side concerns E-Catalog enrichment with featured articles' and pertinent manufacturers' images, in order to offer a better representation to customers.
Also technical data will be added, with the aspiration to become a reference archive for this sector's engineers.
Moreover, a research system improvement has started, and is at present in a refining phase, in order to amplify user's chances to find the required item, even though typed in an approximate way.
Aiming at all these evolutions' best development it has been necessary to adopt particular infrastructures, which have led to the choice to keep Unitec servers by a major provider located in the centre of Europe, where they are connected to the internet by a 6-gigabyte speed band.
---